Description
Lock-N-Stock Folding Safety Ladder
Tired of watching light duty step ladders fall apart? Does the term €œRickety€ come to mind when you think of your current step ladder? Try ™our new Lock-N-Stock Folding ladder – 58 degree slope with 7€ deep steps for easy climbing, welded steel construction rated to 350 lbs.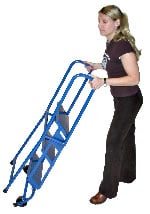 Lock-N-Stock Folding Safety Ladder Features:
Lock the stair section in place and Climb it €" Roll it €" Fold it €" Store it
Welded construction
No hinge to break
Heavy duty rated for 350 pounds
Easy to maneuver in the open or closed positions
Locks in the folded or climbing positions
Approximately 10€ deep when folded for easy storage
Built to ANSI 14.2 standards
Lock-N-Stock Folding Safety Ladder Specifications:
Model #
# Steps
Type
Top Step
HT
Weight
Open Width
and Length
Folded
Dimensions
Ships
UPS

LS2247

2

Perforated

20″

30

24 x 17

10 x 24 x 41

Yes

LS3247

3

Perforated

30″

35

24 x 23

10 x 24 x 52

Yes

LS4247

4

Perforated

40″

42

24 x 30

10 x 24 x 65

No
Titan GSE is YOUR total ground support equipment provider. We can customize any ground support equipment to suit your specifications.